In Guilin city,a place where its hills and waters are the best under heaven,a joint venture:HuaMei Talc Development Co.,LTD is situated in.For many years' struggle,form a small factory with 20 employees,and less than 400,000 RMB Yuan of fixed assets to an integrated middel sized enterprise,which at present has more than 430 employees,50 million RMB Yuan of fixed assets total,over 80 million RMB Yuan of annual sales income,and over 6 million US Dollar of profit in foreign currency integrating mining,fine choice,processing,transportation,and distribution,has ascended in top 50 foreign businessmen's investment enterprise,and won the titles:"an enterprise over 10 million RMB Yuan of profit payments and tax turnover","a trustful firm for quality",and "an enterprise strictly abides by contracts and punctuality"ect.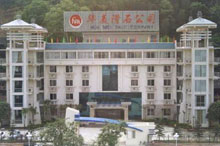 HuaMei Talc Development Co.,Ltd produces a series of talc products which are widely used in medicine,food, cosmetics,paper-making,plastics, ceramic,rubber, fireproof materials, coatings and national defense high sci-tech field,and it has plenty of clients at home and abroad.Since the company began to develop its own import-export business,it took advantage of rich mineral resources and solid production base,has successively established long term steady trade relationship with many clients in Japan,Thailand,Malaysia,Vietnam,the US,France,and Italy etc.
In order to improve the quality of products,enhance the company to depend on the development of quality-efficiency type,the company has performed total quality management,strengthened process control and site management to assure the quality at every tache from raw materials to finished products and distribution service.Production site is always kept safe,clean,sanitary,orderly,and high efficient.Production is carried out in accordance with ISO 9000 quality assurance system,meets international standard,and in 2002,has passed ISO9001;the authentication of 2000 quality system.
The company has four mining areas,annually produce 140,000 tons of lump of talc;four talc powder processing factories with imported domestic advanced equipment,annually process three brands;Jinhou Brand,Yinyue Brand,and Longji brand,80000tons of talc powder,micro fine talc powder,super micro fine talc power and talc pencils for medicine industry,food industry,and industrial use;one art and craft factory,annually produces over 80 kinds of art and craft prodcuts.
The cultural model of the company:"prosperous and practical,beautiful and complete,hold together to press forward,in pursuit of excellece"and the company's spirit;"feet on the ground,keep improving,love work post and respect present occupation,surpass ourselves"are the company's style;"use quality and speed to meet clients' demand,realize aero defect for the quality of prodcuts"are the company's management idea;"sincerely serves clients,clients' satisfaction is our forever motive"are the company's service idea;"observes discipline,preciseness,in pursuit of truth,practice,and innovation"are the company's action criteria;"face whole country,and make for whole wold"are our unchangeable objective.Since China has entered into WTO,this is good opportunity for HuaMei Talc Development Co.,Ltd actively to expand domestic and forein markets,it offers more chances for HuaMei Talc Development Co.,Ltd to cooperate with more clients.In the light of credit and reciprocity,the company dedicates ot clients by offering high quality products and satisfactory services.